Skip to Content
Corporate Office Desks
In many modern companies, the desk space is where most of an employee's work gets done throughout the day. When this space can be beautiful, functional, and comfortable all at once, it can lead to improved productivity and employee satisfaction, keeping your staff engaged and enthusiastic.
At Corporate Furniture Options, we carry a wide selection of beautifully designed desks that feature expansive workspaces and versatile configurations. Choose from L-shaped, U-shaped, and simple rectangular desks, as well as a variety of drawer configurations for optimal storage.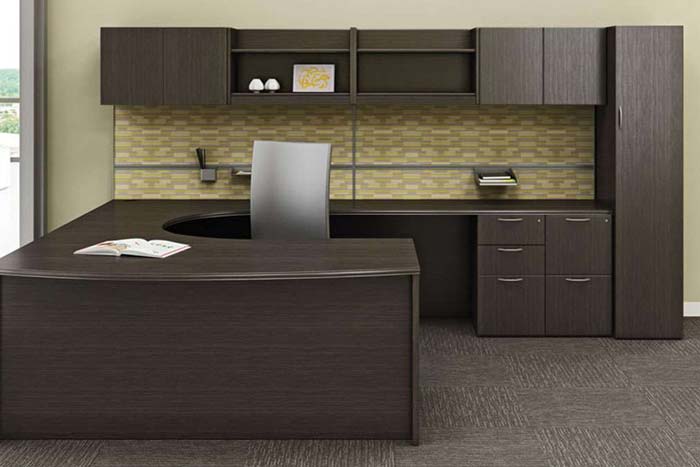 Types of Office Desks
Our team at Corporate Furniture Options provides a full selection of desks, from simple warehouse desks to full Fortune 100 CEO suite executive desks, designed for class and elegance. We can provide any design of desks, with options for custom furnishings to ensure you're getting the right desk for your space. Some of the common types of desks we provide include: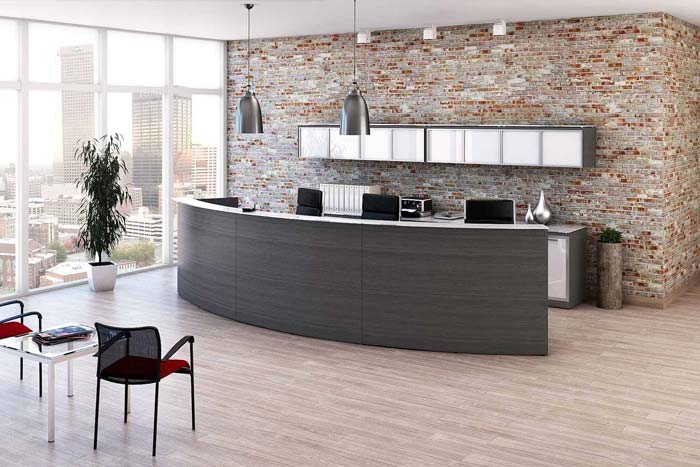 Reception Desks
Typically found in waiting rooms, front lobbies, and reception areas, reception desks are used to welcome clients and other visitors to your business. Meant to be one of the first things visitors see when they enter your office, reception desks are typically elegant, warm and inviting to create a favorable first impression. Your type of business will usually dictate the style, function, and materials used. Reception desks come in a variety of custom sizes, shapes, and dimensions, not to mention a variety of laminates, veneers, hardwoods, glass, and even cement. You'll also want your receptionists to be comfortable with ergonomically appropriate chairs, so they can focus on providing great customer service.
Executive Desks
These elegant, beautiful desks are designed to be situated in the middle of an office room, with the back of the desk facing the entrance. Executive desks typically feature an elegant, closed facade, with wooden embellishments and an expansive surface area. They can come in rectangular, L-shaped, or U-shaped designs, tailored to your workspace needs.
Adjustable Height Desks
Standing desks allow employees to transition between sitting and standing throughout the day, providing relief from sitting in the same position all day every day. These desks have become very popular as companies and researchers begin to recognize the detriment of remaining seated for much of the day.
Selecting the Right Furniture Solutions
Whether you're furnishing a new office from scratch or are interested in upgrading or adding to your existing furniture, our team at Corporate Furniture Options can help you select the right office furniture and office desks to foster a comfortable, productive space to work. Our goal is to provide office furniture solutions for our clients, tailoring our suggestions specifically to your needs. We carry both pre-owned office furniture and new office furniture to give you as many options as possible when it comes to style and budget.
Our team works with companies of all sizes, from banks and insurance companies to contractors and engineering firms. We'll help you design your office space in a way that suits your desired company aesthetic and creates an attractive space for employees to be productive and enthusiastic about their work.
Get the Best Value in Office Furniture