Skip to Content
Our Office Furniture Products
Choosing the furniture you want to fill your office space is key to fostering your desired business aesthetic and building a productive work environment for employees. But it can also be a daunting and difficult process, especially if you have little to no experience in office design and layout.
At Corporate Furniture Options, we provide office furniture design and office furniture planning to help you cultivate a beautiful, functional workspace. We'll work with you to understand your needs and develop a smoothly functioning, comfortable work environment.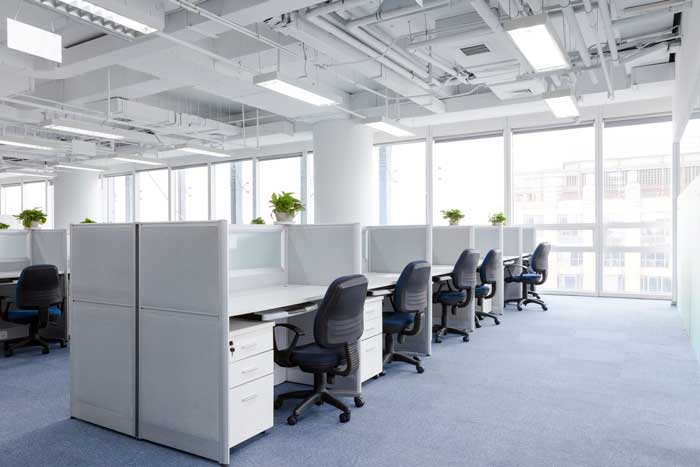 Workstations offer versatility, improved communication, and privacy all in one, helping you customize your office layout to the needs of your business and your employees. Unlike private offices, which build walls between employees and can be cramped or stuffy, workstations in open areas foster improved communication flow between team members and better workflows. We carry a wide selection of versatile workstations, with desks and cubicle walls that allow for varied levels of privacy.
At many modern companies, desks are the place where most of the work gets done. They are therefore an extremely important part of your office furniture design, contributing to workflow, productivity, and comfort throughout the day. We carry a wide selection of desks for all applications, including executive desks, computer desks, standing desks, and more. Choose from sleek, metallic designs or traditional, wooden aesthetics, picking the pieces that are right for your office space.
Choosing the right chairs for your office space is key to providing for the comfort and health of your employees and fostering a comfortable, professional experience for clients. Our team can help you select from our wide range of reception area seating, conference room seating, desk chairs, and ergonomic chairs to find the right seating options for your aesthetic, functional, and financial needs. We carry styles ranging from traditional to modern, with ergonomically designed options that help alleviate back problems from sitting at a desk all day.
Despite the efforts of office managers nationwide to convert to paperless systems, most companies still have to deal with some form of paperwork. Our team at Corporate Furniture Options provides the filing systems you need to keep track of that paperwork and store files long-term. We have lateral filing systems, vertical filing systems, filing shelves, and more in a range of materials and styles, helping you find the right filing solutions for your needs.
Buying used office furniture lets you get a hold of high-quality pieces from the best brands in the business at a fraction of the original listing price. From beautiful, barely used workstations to sturdy, reliable filing systems, we have pre-owned office furniture products that can help you furnish your office at an affordable price. Our used selection also comes with the option for Quick Ship Solution, getting you the furniture you need even more quickly.
Whether you're fitting your conference rooms, training rooms, or break rooms, let Corporate Furniture Options help furnish your multipurpose spaces. If you need to fit a conference room consider the size, storage, and space necessary. While you want your conference table to be the main focal point, you also don't want it to overwhelm your space. We recommend leaving at least three feet of space around your conference table to create a more comfortable setting.
Corporate Furniture Options provides effective consulting and space planning services for clients of all sizes. You can rest assured we'll create the highest level of functionality for your space, while maintaining the unique look and feel of your company. By taking the time in advance to put every little detail in place, we effectively eliminate any problems experienced during furniture installation.
Get the Best Value in Office Furniture